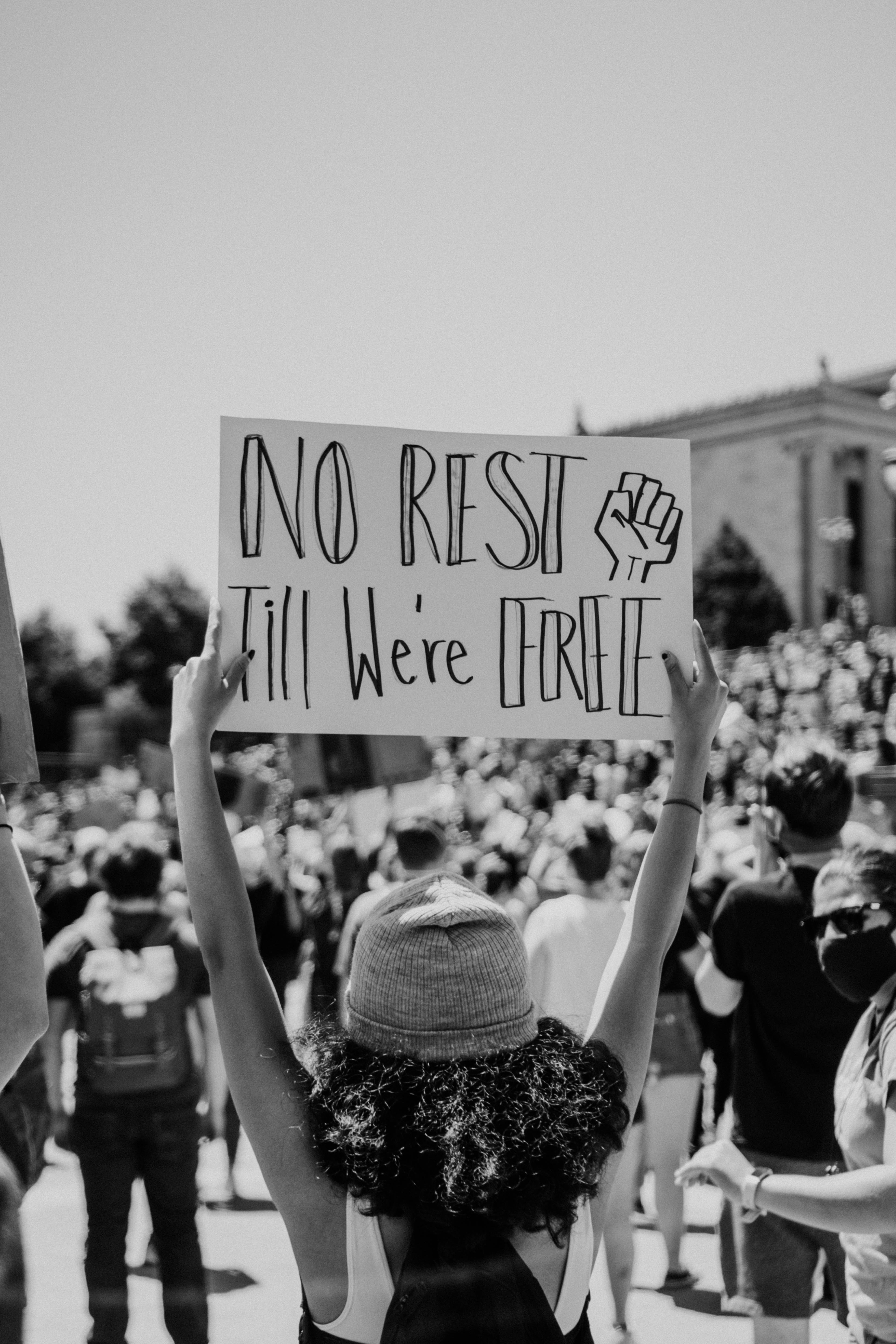 Photo: Alan Daher, "No Rest Till We're Free," May 30, 2020, Philadelphia
"Without community, there is no liberation."
― Audre Lorde
We stand in solidarity with all Black people and with the ongoing struggle against anti-Black racism and subjugation in all its forms -- within our psyches, institutions, and society. We stand alongside all of those who are speaking up for justice and putting their bodies, lives, and health at risk in these times.
Across the nation, this week's encounters with military tactics, weapons, and vehicles—transported from the border to the streets—make palpable the carceral priorities of our government, including at the most local level. Repeated governmental failures in the face of the COVID-19 pandemic have further revealed a pervasive disregard for protecting communities of color and safeguarding their right to health. We demand a new vision for our cities, states, and federal government that recognizes state violence, housing shortages, food insecurity, low wages, and environmental pollution as the health pandemics they are -- and sees education, the arts, health equity, non-punitive justice, and the right to vote as pathways to peace.
In Philadelphia, the efforts this week by Mayor Jim Kenney, the police department, and the national guard to suppress civil liberties, discourage protest, and use tools of violence that disproportionately harm Black communities has made even more legible the need for systemic reform. Tear gas and rubber bullets fired against nonviolent protesters; unprovoked attacks by police with billy clubs; police-supported white vigilantism; curfews, harassment, excessive force, surveillance, and more. While our tax dollars should be funding progressive efforts to support civil society and the vulnerable, our mayor instead is decimating support for social services and eliminating all arts funding in order to support a $14 million boost to the police. It's time for the mayor and police to be held accountable and offer concrete actions, plans, and deadlines for policy changes that can transform the conditions that continue to make so many of our beloved communities so vulnerable.
We lend our voice in support to the various efforts already underway to fight for an alternative future. The work of Black Lives Matter Philly, Philly We Rise, the 215 People's Alliance, Reclaim Philadelphia, the Philadelphia Community Bail Fund, One PA, Decarcerate PA, and many others has been foundational to this week's actions in Philadelphia. The vision they uphold for a society free from subjugation in all its forms is one we affirm and share.
For those able to financially contribute at this time, we encourage you to support the work of the Up Against the Law Collective via Venmo (@upagainstthelaw).
We wish our communities safety, strength and solidarity at this time.